---
I'M INTERESTED FORM
We will contact you to see if the program is right for you.
LEARN MORE
Visit the IFSC Web Page.
The first Idaho Food Safety Cooperative Program (IFSC) completed on October 29 in Boise and participants gave the program & instructors 5 Stars! Let us know If you are interested in learning more about creating your food safety plan (free of charge) at our upcoming IFSC courses in Idaho Falls, Twin Falls, and Boise.
It was a very comfortable atmosphere with a smaller classroom setting. I feel much more confident today in my procedures and plans than I did prior to class. Janna and Catherine were very open to questions, comments and helping me understand materials. Thank You!!
– Savana Saroyan, SEVZ Kitchen LLC
As of September 2018, ALL food processors, including small ones, are REQUIRED to have a food safety plan that includes an analysis of hazards and risk-based preventive controls to minimize or prevent identified hazards. Having a proper food safety plan can also allow you to grow into national, regional, or local markets such as Walmart, Costco, Albertsons, Whole Foods, or the Boise Co-op.
If you are ready to create a plan, WE CAN HELP! We are looking for a cohort of small food manufacturers to participate in our upcoming IFSC courses in Idaho Falls, Twin Falls, and Boise. During 6-afternoon sessions you will learn everything you need to create a Food Safety Plan that puts you in compliance with new regulations of the Food Safety Modernization Act.
Class Schedule:
Complete our "I'm Interested" form and we will let you know as soon as we schedule the next course.
This is a REALLY exciting opportunity for small food companies to receive the instruction, templates, and coaching needed to complete a FSMA compliant food safety plan – For FREE!
– Instructors, Catherine Cantley & Janna Hamlett on the IFSC.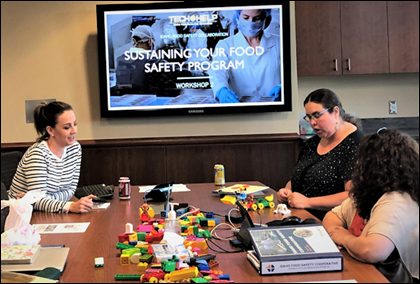 WHAT YOU GET AND HOW IT WORKS
Funded by a grant for a limited time, the FREE IFSC Program is worth over $10,000 to each participant. The program includes:
Free Food Safety Gap Assessment of your operation
Free training and templates needed to create your plan
Free attendance at our PCQI certification course in Twin Falls
Six free hours of 1-1 consulting to help you create your Plan
Up to 3 people from your company will move through the program in parallel with a small cohort of other companies. (At least 1 team member must attend each session)
Information about FSMA and the components of a food safety plan.
Simulation activities to practice documentation, auditing, and writing policies & procedures.
You will come away from the course with a comprehensive food safety plan that will include all the FDA-Required sections, as per the FSMA rule. We will provide up to 6 hours of 1-1 consulting to help you complete your plan!
Janna and Catherine are top-notch! I learned so much from them. Their personal experiences were very interesting and what I probably liked best.
– Dave Brochier of Comet Candy
WHO IS ELIGIBLE TO PARTICIPATE
Small food processing companies with fewer than 500 employees.
Each company team must include at least one person with PCQI training. (Enroll one person in our PCQI Course running January 28-29 in Twin Falls)** $850 course is FREE for IFSC participants.
Each company completes a FREE TechHelp Food Safety Gap Assessment before class.
Contact Janna Hamlett to find out how you can complete PCQI training & a Gap Assessment before this program.
If you would like to learn more, click the link below to complete a short form and we will get in touch with you shortly.
---
IFSC Sessions:
Workshop 1: Food Safety Program Management
Workshop 2: Food Safety Program Basics
Workshop 3: Assessing Food Safety Risk
Workshop 4: Building Your Food Safety Plan- Part 1
Workshop 5: Building Your Food Safety Plan- Part 2
Workshop 6: Building a Recall Plan
If you have any questions please contact Janna Hamlett at 208-731-9363 or jannahamlett@techhelp.org