The Manufacturing Month of October closes strong in Idaho with Boise Startup Week (IncludingTrailmix) and the Coolest Thing Made in Idaho Contest hosted by the Idaho Manufacturing Alliance (winner announced Friday, Oct 30). TechHelp's Food Manufacturing Team will keep the fun going in November with the valuable workshops/webinars listed below. 
Congratulations to Daniel Smith (below) of RECIPE 33 for taking home the Trailmix 2020 top prize of $20,000 and shelf space at Albertsons. Jenny Bourdon of Wild Heart Sipping Vinegar captured the runner up prize of $5,000. The annual Trailmix competition invites the region's top food product startup companies to make their pitch to food industry professionals. In addition to the prizes listed above, participants gain visibility, notoriety, and valuable industry connections.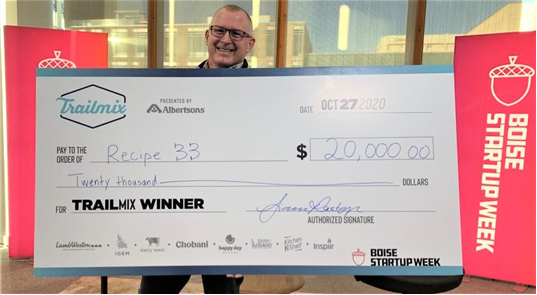 Current and future Trailmix competitors will benefit from TechHelp's Food Manufacturing workshops and webinars hosted by our experienced Food Manufacturing Team.
FOOD WORKSHOPS, WEBINARS & MORE
November 2020
Hazard Analysis Critical Control Points (HACCP) IHA Certified 8-hour Online Course with Janna Hamlett- Online – November 4, 9 am – 5 pm MST.
Creating and following a HACCP plan lets customers know you are serious about producing safe food products. HACCP is an internationally recognized method of identifying and managing food safety-related risks. When central to an active food safety program, it can provide your customers, the public, and regulatory agencies assurance that a food safety program is well managed. Participants will receive an International HACCP Alliance seal and certificate.
Leadership – FREE WEBINAR – "Leading Transitions: Helping Others Through Change" on November 10, from 2 pm – 3 pm MST
Food Manufacturing Specialist Catherine Cantley, of TechHelp and the University of Idaho, will host this free webinar on leadership featuring Ryck Tanner, Global Director, Leadership and Development at The J. R. Simplot Company.

Food Defense Survey – DEADLINE OF November 17!
The Michigan Manufacturing Technology Center (MMTC) is working with MilTech, an authorized partnership intermediary for the Department of Homeland Security (DHS). MMTC is fielding a survey to the food and beverage industry that will help DHS's Chemical Security Analysis Center develop tools supporting food defense activities. Please consider taking this short, 10-12 minute survey and sharing it with your industry contacts. This survey will remain open through November 17, 2020.
December 2020
Internal Auditing – Online – December 1-2, 8am – 12pm MST
Internal Audits are a requirement of all Global Food Safety Initiative approved certification schemes (e.g., SQF, BRC, FSSC 22000, etc.) and many 3rd party audit programs. Internal audits allow you to audit your facility for gaps and compliance. They are an important tool in the on-going food safety toolbox for any food manufacturer, packager, and warehouse and distribution company.
---
Instructors

Janna Hamlett spent her life working in agriculture. She has a BS degree from the University of Idaho in Dairy Science with a minor in English and a Master's degree from Washington State University in Food Science and Management. Janna has worked in various management positions including, Training Manager, QA Manager, and Production Manager at large scale cheese and whey processing facilities in Idaho's Magic Valley. Her numerous industry certifications include approved OSHA 10, and 30-hour instructor, PCQI (Preventative Controls Qualified Individual) Instructor, SQF Practitioner, SQF Approved Teaching Center and an approved HACCP curriculum from International HACCP Alliance.


Catherine Cantley is a Food Processing Specialist with TechHelp and Assistant Professor at the University of Idaho School of Food Science. Catherine earned a B.S. in Biological Systems Engineering from Washington State University and an M.S. in Agricultural and Biological Engineering from Purdue University. She is an experienced Senior Research and Development Manager with demonstrated expertise in food manufacturing, process engineering, product optimization, food safety, and sensory and consumer science.  She has worked in both the retail sector and the food service sector, so she can flex readily to help your company meet the needs of your customer(s).
More Information